Coupon Corner
on
July 23, 2012
at
10:59 pm
 Coupon Corner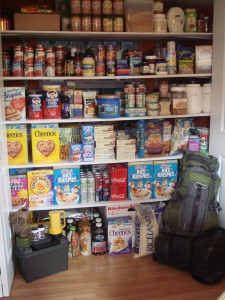 Couponing is essential to prepping on a budget. Couponing can allow you to buy extra food to stockpile on the same budget that only fed you for a week without coupons. Learn to stack store coupons with manufacturer coupons on buy one get one items. Most stores allow one of each; on the buy one item as well as the get one item. This can bring your total down to or near zero! Some things may actually be money makers, meaning that the value of your coupon is greater that the sale price. Those overages from the money makers can go towards paying down the balance of the remaining grocery bill. Doing this consistently will help you build up a stockpile. You can easily have stockpiled a year's worth of food in six months. You can also do this with soap, shampoo, pain killers, deodorant, razors and other medicine cabinet items. You can stockpile  toilet paper, napkins and paper towels as well. When you find money maker items that you may not need, buy them for the negative balance towards the rest of your purchase and give them away to your church or friends who need them. Once you understand the system and start doing it , it will become easier. One thing is for sure, you will never shop like you used to, you' ll want to see those huge savings week after week. Nothing like coming home with a trunk full of groceries and knowing you saved  70 % or more in total.
Another great way to save on top of sales and coupons is by earning cash for your groceries by using Apps. All you need is a smart phone. You take a picture of the product , your receipt and you are credited to a paypal account. Easy peasy! You can use multiple apps for the same product since they are not related to either  the store sales, your other coupons nor each other. So, now you are totally maximizing your savings. Check out: Checkout 51, Ibotta, saving star, mobisave, savingscatcher.
Remember that most stores have ways to download digital coupons on your smart phone and Target will give you additional savings on top of their store coupons and manufacturer coupons, with their cartwheel program: cartwheel. For Target store coupons, go to the website and scroll to the very bottom of the homepage on the Ways to Save column and  click the Coupons link target.com.
Never forget a coupon with Snip snap  and retailme not.
Another wonderful thing about couponing is that your standard of living actually improves in the sense that  you can now buy things that you were never able to afford before. It also gives you the chance to try new things and decide if you like them or not.  The more you coupon, the more you will see that  savings are consistent on many quality brand name items, organic and natural products.
Coupon Links
The following links are recommended websites that will help you understand the principal of couponing and stockpiling. Some of them even have videos to watch to actually see how to use your coupons at the store and what kind of sale to look for. They all match the stores weekly ads with the coupons to use.  Keep in mind that some parts of the country do not double coupons. You will have to find out the coupon policy for the stores in your area.
I heart the mart  Walmart, major grocery stores and drugstores.
hip 2 save  More geared towards amazing internet deals that will save you a ton of money.
Totally Target   All the deals to find at Target.
I Heart Publix   Great site for Publix deals if you happen to live near one. (GA, FL, AL, SC, TN )
Addicted to Saving  Excellent site for store deals like Publix, Winn Dixie, Albertsons, Target, Walmart and many more.

Southern Savers  Great site to learn tactics and get coupons.
Krazy Coupon Lady  Very good site for beginners. Has deals for most of the country just click on " find my store" in the upper left hand corner. There are all the drugstore deals as well.
I Heart Kroger   Great site for Kroger deals if that is in your area. Kroger does double coupon days!
I Heart Saving Money  Deals for Kroger, Food Lion, Ingles, Target and WalMart.
I Heart CVS   CVS drugstore deals can allow you to get free stuff every week by rolling their extra bucks. We get all of our toiletries, beauty and health items this way.
I Heart Rite Aid  Rite Aid is a great drugstore where you can get lots of freebies. Their rewards program is similar to CVS' program.
Free Printable and Online Coupon  Sites:
For organic and natural foods: healthylifedeals, mambosprouts, commonkindness, earthfare.
Please e-mail us at prepperrecon@gmail.com to add grocery stores, drug stores and coupon sites for your region. We would love to add them to coupon corner!