on
October 6, 2013
at
2:29 am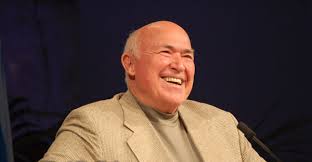 June 25, 1927 to October 3, 2013
Sunday Prepper Bible Study- Pastor Chuck Smith Moved
"I have fought the good fight, I have finished the race, I have kept the faith.
Finally, there is laid up for me the crown of righteousness, which the Lord, the righteous Judge, will give to me on that Day, and not to me only but also to all who have loved His appearing. "(2 Tim 4:7-8)
Pastor Chuck Smith of Calvary Chapel Costa Mesa graduated last Thursday after a long battle with lung cancer.  Pastor Chuck started the Calvary Chapel Movement back in the 60′s with a congregation of only 25 people. Today there are more than 1500 independent Calvary Chapels around the world.
Some of the greatest biblical speakers of our day have grown from Calvary Chapel including Greg Laurie, Bob Coy, Chuck Misler and Skip Hitzig. I close most every night with an mp3 sermon of Pastor Chuck that I download from his website, TWFT.com.
Pastor Chuck has been an inspiration to me and has taught me so much about the Bible over the past years as I have listened to his sermons on my mp3 player. One of the things Pastor Chuck said many times over the years was "When you see me in the obituary saying 'Pastor Chuck died', don't believe it. I just moved." Pastor Chuck is more alive today than ever before, not because he started one of the greatest evangelical movements in the world, but because he placed his faith in Jesus Christ.
Pastor chuck has a legacy because he spent his life serving Jesus and living according to God's Word. What will your legacy be? Are you living the kind of life you can be proud of or is it time to reevaluate and make a few changes?
If you are new to prepping or would like to learn more about how to prepare for tomorrow, please read our 7 Step Preparedness Plan. The most important prep of all is knowing GOD. Jesus said "what does it profit a man if he gains the whole world yet loses his own soul?" Prepper translation: "What good will it do you to survive the coming economic collapse, nuclear war or even a zombie apocalypse if you don't know you will go to heaven when you die." A recent study found that 10 out of 10 people die! On that day we will meet our Maker. It only makes sense to be prepared for that day. Click here to learn more about knowing GOD.
Have a blessed week and happy prepping!