on
November 28, 2014
at
8:08 am
The Kindle editions of Retreat Security and Small Unit Tactics , American Exit Strategy,  and American Meltdown are all available for 99 cents from Friday, 11/28 at 10 AM PST until Saturday 11/29 at 10 AM PST! They will remain on sale at deeply discounted rates until Monday morning.
I had planned to make the Kindle editions of all of my books available for 99 cents on the Friday after Thanksgiving. Unfortunately, American Reset isn't eligible for the sale program until next week, so I'll run the promotion for American Reset starting on Cyber Monday.
Likewise, The Days of Noah, Book One: Conspiracy isn't eligible for the promotion becuase of Amazon's restrictions. If you're interested, shoot me an email at prepperrecon@gmail.com and I'll send you a notification when the book becomes eligible and I run the 99 cent promo.
Don't forget, you still have until midnight, November 30th to enter the HUGE SURVIVAL GEAR GIVEAWAY! So far we only have about 24 entries. With 3 different prizes, the odds of winning are currently 1 in 8. The total value of prizes is $280! Don't miss out on your chance to win!
Also, from now through Cyber Monday, December 1st, I'll include a free 30ct bottle of Fishmox Amoxicillin with any IFAK purchase! Check back to the website regularly and listen to the show for  coupon codes and specials from now through Christmas!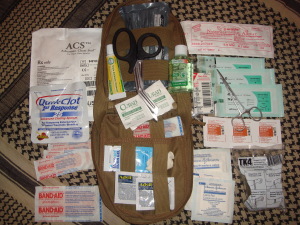 While Christmas is a wonderful time to give great prepper gear, remember that Jesus is the reason for the season and the gift of salvation is the greatest gift of all.
Here is a short video of Mark Dice chasing people around with a bull horn for shopping on Thanksgiving Day.