on
December 10, 2012
at
5:17 am
"Founders – a Novel of the Coming Collapse"  By James Wesley Rawles- Book Review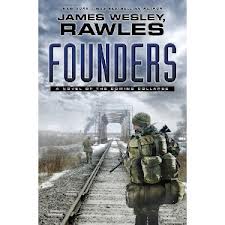 "Founders – a Novel of the Coming Collapse" is the new book by author James Wesley Rawles. It is his third novel about the coming collapse. It chronicles the lives of several different individuals around America and how they attempt to survive. James Wesley Rawles is a former Army Intelligence Officer as well as a popular survivalist author. He has written "How to Survive the End of the World as We Know it" which is a basic preparedness manual. He is also the author of Survivalblog.com which is loaded with incredible prepper information. He has released two previous books in the coming collapse series entitled "Patriots" and "Survivors".  The coming collapse novel series are fictional accounts of life after the collapse but provide useful information on how to prepare.
"Founders" is written in the same time period as "Patriots" and "Survivors". A person could read them in any order and not be lost. Several of the main characters show up in two or three of the books. Two of the main characters in "Founders" are Ken and Terry Layton who spent too much time packing and decided to bug out a little too late. As they try to get out of Chicago they are ambushed and forced to shoot their way out of the city. This costs them their cars and most of their provisions. They are part of a retreat group in Idaho, but are forced to get there on foot. They show up as a side story in "Patriots" which focuses on the retreat group in Idaho. "Founders" gives a much more detailed account of the Layton's journey.
After the collapse, the US government falls. It is replaced by a repressive illegitimate government that attempts to disarm the American people. Some areas of the country go more quietly than others. A strong decentralized militia rises and gives the rouge government a run for it's money.
I really enjoyed "Founders" and recommend all of James Rawles books. They are entertaining and they really get the prepper juices flowing. You will find that you begin to think about the level of your preps as you consider how well you are prepared for the situations of the characters in the book. James Rawles is a Christian author and you won't have to worry about illicit sex scenes, F words or The name of GOD being used as a curse word. Books that contain those elements are not reviewed by Prepper Recon.com. The book is available through the link on the right hand side bar of this post from Amazon.com. It will make a great Christmas gift to a fellow prepper or to a loved one that you are trying to convince of the need to prep.
Have a blessed day and happy prepping!