on
May 31, 2014
at
12:57 am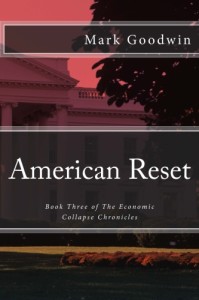 In American Reset, the final chapter of the Economic Collapse Chronicles, the ultimate contest between liberty and tyranny reaches the apex. The Bair family and their neighbors learn the true value of community as they rely on each other to survive the civil war and the effects of the financial meltdown.  Will the collapse bring an oppressive regime that enslaves the American people, or will the patriots prevail and guide the country back to a place of freedom, peace and prosperity?
Liberty minded individuals and those who believe in the Constitution will find this near future, Christian dystopian novel to be right up their alley. Those who are looking to be more informed about the potential threats to America's financial stability will learn what to watch for and how to prepare themselves for an economic collapse.
American Reset is currently available in Kindle or Paperback. The Audio edition is in production and will be out within a few weeks.
Books one and two hit #12 and #11, respectively on Amazons top 100 for dystopian fiction.