on
November 14, 2014
at
2:00 am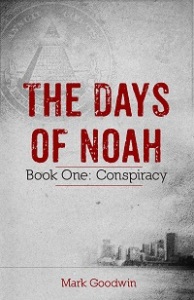 The audio edition  of The Days of Noah, Book One: Conspiracy is now available! I'm a podcast fan myself, which is why I started a podcast. When it comes to books, audio is my preferred method of enjoying them. I just don't have time to sit down and read, but I like to listen to audio books when I'm commuting, going to the gym and doing yard work.
If you are new to Audible, you can get The Days of Noah, Book One: Conspiracy free with a 30-day trial!
A huge thanks to everyone who left a review or bought the book. The Kindle edition just hit number 1 in Christian Futuristic Fiction!
Don't forget about the HUGE GIVEAWAY! You still have a few more days to enter. Click HERE for all the details on how to win and the massive amount of prizes. Right now, there are only 16 entries, so with 3 winners, the current odds of winning are currently about 1 in 5!
The Days of Noah, Book One: Conspiracy.  A fast-paced, prepper-fiction thriller! Get it today!
Is there a secret cabal working to collapse the international economy in order to usher in a global government and one-world currency?
Noah Parker, like many in the United States, has been asleep at the wheel. During his complacency, the founding precepts of America have been slowly, systematically destroyed by a conspiracy that dates back hundreds of years. The signs can no longer be ignored and Noah is forced to prepare for the cataclysmic period of financial and political upheaval ahead.
Watch through the eyes of Noah as the world descends into chaos, a global empire takes shape, ancient writings are fulfilled and the last days fall upon the once great, United States of America.
God speed and happy prepping!
MDG