on
February 21, 2014
at
5:57 am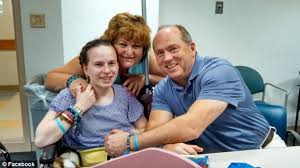 Last year, Justina Pelletier was stolen from her parents by the the hands of the criminal police state. The following synopsis of the story is from FoxCt.com. Read the full story here.
"Lou and Linda Pelletier lost custody of Justina after she was admitted to Boston Children's Hospital on Feb. 10, 2013 with the flu.

She was diagnosed by physicians at Tufts Medical Center years earlier with Mitochondrial Disease, a condition that affects cells and presents itself as muscle pain in weakness in various parts of the body.

But according to internal documents obtained by FOX CT, Boston Children's Hospital physicians said Justina had a mental condition called somatoform disorder.

After the Pelletiers asked to have her discharged, they were escorted out by hospital security.  A 51A form was filed by the hospital, beginning the process of transferring custody of Justina to DCF.

The Mass. DCF stepped in and by February 14th, a judge had transferred custody of Pelletier to the state of Massachusetts DCF.

Pelletier remained inside Boston Children's Hospital against her will and the will of her parents until mid-January 2014 at which time she was transferred to the Wayside Family and Youth Support Network facility in Framingham, Massachusetts.

The next scheduled court date is Monday February 24th."
If you live in Massachusetts, you need to be calling everyone who holds office by an election and demanding that the criminals who have perpetrated this unlawful kidnapping and imprisonment be prosecuted and jailed for the maximum sentence for these heinous crimes.
In addition to the crimes committed by Mass. DCF, the judge issued a gag order against the father violating Mr. Pelletier's First Amendment rights.
All of the administrators at Boston Children's hospital that did not reverse this situation and press criminal charges against the physician who initiated this situation are criminals who are complicit in the kidnapping.
The case worker and the entire administrative staff of Mass. DCF are criminals for being complicit in this kidnapping. If you work for such an organization you should be prosecuted under RICO because you are willfully employees of a criminal organization.
All the legislative oversight all the way up to the governor of Mass. are also criminals guilty of kidnapping because they have failed to intervene in this wicked scheme.
If Justina dies due to the lack of medical care that she is receiving, all of these criminals will also be guilty of murder.
The Nazi police state is stealing our children. These criminals must be stopped. Don't wait until you're being herded into a cattle car to speak up. It will be too late then. If you see something, say something.
If you have kids and would be mad if your sick child was kidnapped, please call these criminals and let them know what you think.
Mass. DCF Acting Commissioner Olga Roche (617) 748-2000
Massachusetts, Governor Deval Patrick  617.725.4005
Boston Children Hospital CEO Sandra Fenwick (617) 355-6000