on
March 9, 2014
at
12:25 am
Sunday Prepper Bible Study- Joseph and the Famine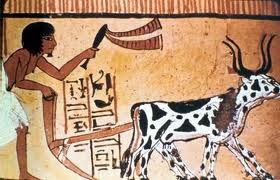 A little background- Genesis 37
In the book of Genesis, we read the story of the beginning of the nation of Israel. Jacob, whose name becomes Israel has 12 sons who are the patriarchs of the 12 tribes of Israel. One of those sons is Joseph. He was Israel's favorite son and he did not hide it. Israel gave Joseph a very ornate robe as a sign of his love . This made his brothers jealous.  One night Joseph had a dream that there were 12 sheaves of grain and that the brother's sheaves bowed down to his sheave. He told his brothers about this dream and they became angry and more jealous. The brothers devised a plan to get rid of Joseph. Long story short, they threw him in a pit until some traders came along and they sold him as a slave to the traders. They returned his fancy robe to their father and told him Joseph had been killed by wild animals. Israel was very sad to say the least.
Joseph in Egypt- Genesis  39 and 40
Joseph was sold into slavery in Egypt. He was the slave of an important Egyptian official. The official's wife was constantly trying to get Joseph to sleep with her, but Joseph refused. To get even with him for rejecting her, she accused Joseph of trying to rape her. Joseph was thrown in prison for several years under this false accusation. In prison, Joseph met  Pharaoh's baker and cup barer who had been locked up while Pharaoh was in a bad mood. They each had troubling dreams which Joseph interpreted as meaning the cup barer would be restored to his position and the baker would be executed. Everything happened as Joseph said.
Pharaohs dream- Genesis 41
Years later, Pharaoh had a dream that no one in Egypt could interpret. He dreamed 7 fat cows came out of the Nile River. 7 skinny cows came out shortly after and swallowed up the 7 fat cows. He then dreamed of 7 full heads of grain followed by 7 dry sun scorched heads of grain that swallowed up the full heads of grain. The cup barer remembered the accurate dream  interpretations by Joseph. He told Pharaoh about him and Joseph was brought before Pharaoh at once. Joseph told Pharaoh that if he was to interpret the dream, the interpretation would have to come from GOD as he could not do it in his own power.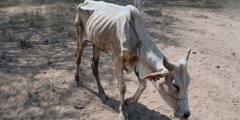 Pharaoh told his dream to Joseph who was given the interpretation from GOD. He told Pharaoh the dream meant there would be 7 years of abundance followed by 7 years of famine. Pharaoh was so pleased that Joseph had interpreted the dream, he put him in charge of all of Egypt with the priority of being the head prepper to start storing food for the coming disaster. Joseph devised a prepper plan to allocate some portion of each harvest to be stored for the coming crisis. By the end of the 7 years of abundance, Egypt was well stocked with grain that would keep well for the 7 years to come.
Joseph feeds his brothers- Genesis 42
Joseph was also in charge of distributing the grain when the famine began. Israel sent his sons to Egypt to buy grain because the famine reached into the land of Israel as well. When his brothers came to Joseph, they did not recognize him. When they finally figured out that it was Joseph whom they had sold into slavery, they were terribly afraid.  He forgived them after having a little fun with them and moved his entire family to Egypt where the Israelites stayed for 400 years.
During the famine, Joseph was able to buy land very cheap from those who had not prepared for the famine. They were eager to sell their property to Joseph for grain that will keep them alive.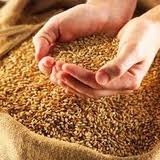 Lessons for the prepper
The first prepper lesson in this story is to trust GOD. Even though Joseph went to prison, God had a plan. It was through that hardship that GOD elevated Joseph to the highest position in the land. Don't let anxiety about the future get you down. GOD is in control just as he always has been. Do what you can to prepare and trust GOD for the rest.
The second prepper lesson is to have integrity at any cost. Joseph was willing to stand up for what was right. He refused to sleep with the official's wife even though it cost him his freedom.
The third prepper lesson is that once GOD gets you where you are supposed to be, you are responsible to do the best you can with what you have to work with. Once Joseph was promoted in Egypt, he didn't just sit back and say " GOD will take care of me", he got involved. He devised a plan to cope with the coming crisis. Then, he worked hard to implement the plan. He put Egypt on a plan to live below their means so they could have something for the future. If you consume everything you produce, you will have nothing tomorrow. It is such a simple concept, but one that is so far from the modern American mindset.
The fourth prepper lesson is that those who prepare now will have great opportunities in the future. Prices of land and every other commodity was reduced to the price of a few handfuls of grain in the famine. Joseph was literally able to purchase them for chicken feed. Stay out of debt and save everything you can. There will likely be a big sale in our future as well.
GOD was faithful to warn the people about the coming famine. Our present crisis has had no dream of thin cows and sun scorched grain, but there is no shortage of economists who see a grim future for the US and the global economy.
If you are new to prepping or would like to learn more about how to prepare for tomorrow, please read our 7 Step Preparedness Plan. Come back every Sunday for a new Prepper Bible Study! The most important prep of all is knowing GOD. Jesus said "what does it profit a man if he gains the whole world yet loses his own soul?" Prepper translation: "What good will it do you to survive the coming economic collapse, nuclear war or even a zombie apocalypse if you don't know you will go to heaven when you die." A recent study found that 10 out of 10 people die! On that day we will meet our Maker. It only makes sense to be prepared for that day. Click here to learn more about knowing GOD.
Have a blessed day and happy prepping!